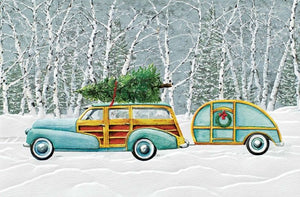 A classic "woodie" wagon and little camper bring home the family Christmas tree in style.
ARTWORK BY: 
Barb Tourtillotte
WHAT IS INCLUDED: Box of 16 cards and 17 envelopes.
CARD SIZE: 8-1/2" x 5-3/8" 
INSIDE GREETING: The greatest gift we are given is family. This holiday season, share the love. Merry Christmas!