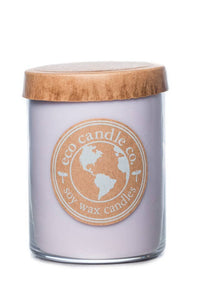 Lavender Dreams scent description: Calming lavender perfectly blended with lilac, sage and mimosa.

100% soy candle hand-poured in Appleton, WI. Glassware and all packaging made in USA. 16oz: Burn time up to 95 hours | Optimal burn length is 3.5-4.5 hours at a time.
* Due to a nationwide glass shortage, and in order to get one of our best-selling candles back into the hands of loyal customers, Eco Candle Co. is temporarily replacingtheir 16oz glassware with a slightly different style. These new jars vary slightly from the photos - they hold more wax (19oz!), are double wicked, and are a little wider and shorter than the 16oz jars you are used to.